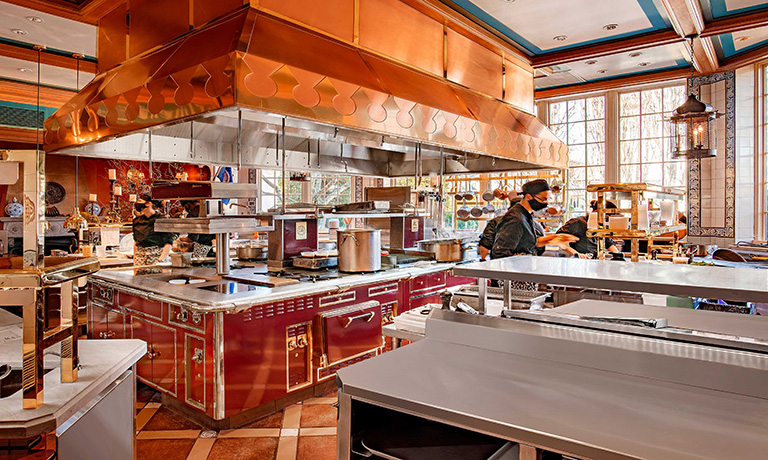 Potomac Construction Completes Accelerated Kitchen Renovation at the Inn at Little Washington
Located in Washington, Virginia, The Inn at Little Washington is celebrating 42 years in business and remains the first and only Three-Star restaurant of the Capitol Region in the Michelin Guide, and the only Michelin-rated restaurant in Virginia. The Forbes Travel Guide has awarded the Inn at Little Washington five stars for 31 straight years, making it the longest-tenured Five-Star restaurant in the world. Potomac Construction was honored to be entrusted with their first major kitchen renovation since 1996, which included the installation of a 4,000 pound Molteni stove at the distinguished location.
With only 10 days allotted to execute the work, the Pre-Construction phase of the project far exceeded the construction duration. Extensive coordination took place over a one-year period with our valued project partners: Next Step Design, Molteni and C&T Design and Equipment Company.
The planning for removal of existing equipment and access for the new equipment involved precise measurements, including the removal of the exterior kitchen doors for rigging the massive main island, which cleared the opening by half an inch. The skilled problem solving and commitment of Potomac Construction's Field Superintendents ensured not only that the project was completed to the highest standards of quality, but construction was completed two days earlier than planned, which gave the Inn extra time to fine-tune the equipment and ease their kitchen back to normal operations.
The project continues to showcase Potomac Construction's flexibility, problem-solving competency and expertise. No matter the size of the project, our Team excels at making certain that construction is performed on time and on budget, always at the highest level of quality. We were honored to complete the project for Chef Patrick O'Connell, who thanked Potomac Construction for our "responsiveness and professionalism throughout the project."